SP RACING F3 FLIGHT CONTROLLER ACRO VERSION
Racing F3 Flight Controller (SPRacingF3) was designed to give awesome flight performance based on tried and tested sensors whilst also providing unparalleled I/O capabilities in a small and extremely lightweight form-factor using a next-generation CPU.
The SPRacingF3 gives you all the features you need for the heart of your aircraft, whether you're into FPV racing,
acrobatic flying or aerial photography it's perfect.
Features
No compromise I/O. Use all the features all the time; e.g. Connect your OSD + SmartPort + SBus + GPS + LED Strip + Battery Monitoring + Sonar + 8 motors - all at the same time!

On-board high-capacity black box flight log recorder - optimize your tuning and see the results of your setup without guesswork ( Deluxe).

Next-generation STM32 F3 processor with hardware floating point unit for efficient flight calculations and faster ARM-Cortex M4 core.

Stackable design - perfect for integrating with OSDs and power distribution boards.

16 PWM I/O lines for ESCs, Servos and legacy receivers. 8 available on standard pin headers. 8 via sidemounted connectors.

Full support for OneShot ESCs for easy PID tuning and a sharper response.

Supports SBus, SumH, SumD, Spektrum1024/2048, XBus, PPM, PWM receivers. No external inverters required(built-in).

Dedicated output for programmable LEDs - great for orientation, racing and night flying.

Dedicated I2C port for connection of OLED display without needing flight battery.

Battery monitoring ports for voltage and current.

Sonar support for precision low-altitude hold.

Buzzer port for audible warnings and notifications.

Developer friendly debugging port (SWD) and boot mode selection, unbrickable bootloader.

Symmetrical design for a super tidy wiring.

Wire up using pin headers, JST-SH sockets or solder pads. Use either right-angled or straight pin-headers.

Barometer mounted on the bottom of the board for easy wind isolation.

Loop times up to ~2x as fast as previous-generation STM32F1 based boards.

Configuration of the flight controller via a cross-platform GUI (Windows/OSX/Linux).

Supports a variety of aircraft, tricopters, quadcopters, hexacopters, octocopters, planes and more.

Available in Acro and Deluxe versions.
Specifications:
STM32F3 CPU

High-Capacity Flash (Acro and Deluxe)

MPU6050 accelerometer/gyro

MS5611 barometer (Deluxe only)

HMC5883 compass (Deluxe only)

MicroUSB socket

4x 4pin JST-SH sockets (I2C, SWD, 2xUART)

2x 8pin JST-SH sockets (PPM, PWM, SERIAL RX, GPIO, ADC, 3V, 5V, GND)

8x 3pin though-holes for pin headers for ESC/Servo connections

2x 4pin though-holes for pin headers for 2x serial ports

2x 2pin though-holes for pin headers for battery voltage and buzzer

36x36mm board with 30.5mm mounting holes
Software
The SPRacingF3 runs the open-source Cleanflight flight control (FC) software which has an ever-growing community of friendly developers and users. Being open-source means that you too can contribute to the system.Cleanflight comes with a detailed manual that is reviewed and maintained by the Cleanflight developers and community. No more out-of-date wiki pages and second-hand information.Ensure you reference the manual that is appropriate to your firmware version.

Failure to adhere to these warnings will void your warranty and destroy your flight controller.
Observe polarity at ALL TIMES. Check and DOUBLE CHECK before applying power.

POWER OFF before unplugging, plugging in or making any connections.

Connect only one SOURCE of power to the VCC pins / Do not connect more than one source of power to two or more of the VCC pins. e.g. If you are using ESCs with BECs then remove the center RED wire from all but one ESC connector.

Do not connect GND, VCC or 3.3v to each other (short circuit).

Do not connect GND, VCC or 3.3v to any inputs or outputs unless specifically stated.

Do not connect any input or output to any other input or output unless specifically stated.

The 3.3v supply is for low-current use only. 100mA MAX.

Do not allow dirt/dust/glue/etc into the pressure sensor (barometer).

Keep magnets away from the flight controller.
WARNINGS
Follow the advice below for best performance and long-life of your flight controller:

Apply resin/glue to reinforce JST-SH connectors - helps if you crash your aircraft.

Using an enclosure/box for the flight-controller is recommended.

Install open-cell foam under the pressure sensor - sandwich some between the FC and frame.

Route motor/battery wires as far away from the compass sensor (magnetometer) as possible.

Only install the BOOT jumper pins if you need them.

Using color coded pin headers is recommended (not supplied), especially for VBAT headers.

Do everything you can to prevent vibrations reaching the accelerometer/gyro sensor.e.g. balance props, motors and secure everything
Variations
Acro: Standard model for racing/acro flying.
Deluxe: Additional sensors for altitude and direction.
To ensure that your order reaches you in the fastest time and in good condition, we only ship through reputed courier agencies. While we shall strive to ship all items in your order together, this may not always be possible due to product characteristics, or availability.
However, we will inform you before doing it. You may track the shipping status of your order on our website, by clicking at Track your Order section. Please note all items (including gifts) will be shipped with an invoice mentioning the price, as per Indian Tax Regulations.
Products with LITHIUM CONTENT will be shipped via SURFACE/ROAD.
HAVOC HOBBY will NOT BE RESPONSIBLE for orders with
Shipping Address: C/o Address /Neighbour Address/College Hostel Address/PO Box.
Orders delivered to: Servants/Maids/Building Security/Neighbour.
Orders with inappropriate Address/Mobile Number
Orders placed on behalf of Others/Friends i.e., 3rd Party.
SHIPPING PARTNERS
We use BLUE DART/ FedEx to ship our products to your destination depending upon destination address.If BLUE DART has no access to destination address then FedEx will be used & vice versa. Most BLUE DART preferably covers PAN INDIA.
DOMESTIC SHIPPING PARTNERS :

INTERNATIONAL SHIPPING PARTNERS :

SHIPPING TIME / DELIVERY TIME
We make our best efforts to ship your order to next day of order placed. We ship on week days (Monday to Friday), excluding public holidays. Though we can guarantee a delivery time of 7-10 working days to anywhere in India, it is totally beyond our control. Each shipping companies have their own methods, intermediate transit locations etc. and the delivery time is not predictable. Please plan your order allowing sufficient time for the delivery instead of last-minute orders.
Please have a double check of all the qty of items/or individual items when the package is delivered. If any of the qty of ordered items / individual item is missing please inform us for the same withing 24 hrs of receiving the package at:havochobby@gmail.com with SUBJECT:REFERENCE TO ORDER NUMBER.
Due to the nature of hobby, we DO NOT provide any kind of warranty/guarantee for any kind of products sold at www.havochobby.com /.in (HAVOC HOBBY).
Although we assure you all of the products are maintained through a strict QC from manufacturer itself. If you have any technical query after your purchase, you can directly call us or WhatsApp us on (+91) 9535545654. We will try our best to solve the query for the same.
For Cancellation of order please refer to our CANCELLATION POLICY.
In the event of product Dead on Arrival or due to manufacturing defects from the factory itself, the defects to be notified to our team through email: havochobby@gmail.com with SUBJECT: REFERENCE TO ORDER#<NUMBER> DOA within 24 hrs of delivery of the product. In case of manufacturing defects OEM support will be provided to the buyer as far as possible, depending on our contract with the OEM. In case the claim is made after 24hrs HAVOC HOBBY does not hold any responsibility for any of the products.
My product is completely working but of no use to me will HAVOC HOBBY accept return?
HAVOC HOBBY may exchange item only if the packaging is not broken and provided the customer has informed us within 24 hours of receiving the items on email: havochobby@gmail.com                     Phone/WhatsApp: (+91) 9535545654 . If any of these criteria are not matched HAVOC HOBBY is not liable to exchange such items.
We urge customers to select products properly while ordering. If for some reason we do provide a Refund it will be in form of Coupon Codes only for next purchase.
If the RETURN criteria are accepted by HAVOC HOBBY customer will arrange a return Shipment costs & arrangements for sending back the items to us. We will check the items thoroughly which can take up to 7-10 working days then only we can conclude for coupon code for next purchase or the item will be sent back to customer.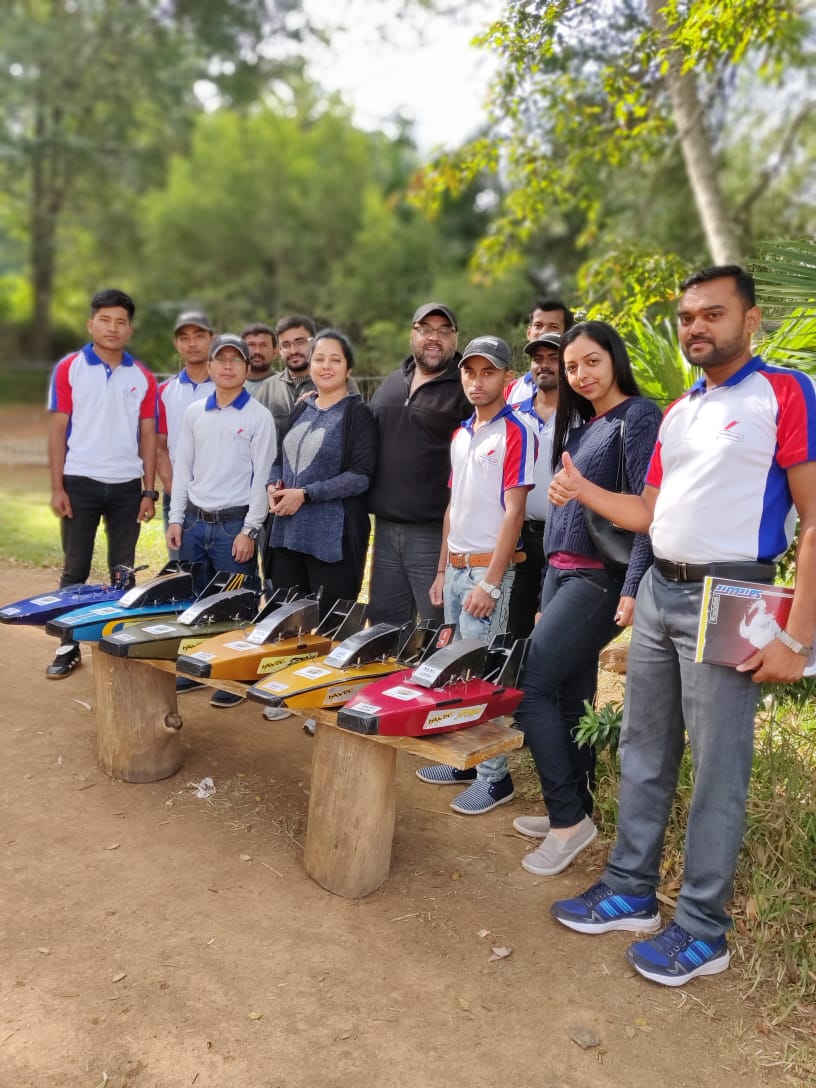 About Havoc Hobby
The Havoc Hobby team is a group of passionate hobby enthusiasts who are dedicated to providing our customers with the best possible shopping experience. From our knowledgeable and friendly staff to our extensive range of high-quality products, we take pride in everything we do. Our team is made up of hobby experts who are always on hand to offer advice and guidance on everything from model building techniques to remote control vehicle maintenance. We're constantly updating our knowledge of the latest trends and products in the hobby industry, and we're committed to staying at the forefront of this ever-evolving field. At Havoc Hobby Toy Store, our team is the heart and soul of our business, and we're always ready to help our customers discover the joy of hobbies
★★★★★

"I love shopping at Havoc Hobby Toy Store! The staff is always friendly and helpful, and they have an amazing selection of toys and hobbies for all ages. My son and I have spent many happy afternoons browsing the shelves and finding new treasures to take home"

Author's name

Los Angeles, CA
★★★★★

"I've been shopping at Havoc Hobby Toy Store for years, and I always come back because of the excellent service and quality products. They have a great selection of science kits, educational toys, and crafts, which are perfect for keeping my kids entertained and learning at the same time."

Author's name

Los Angeles, CA
★★★★★

"I recently discovered Havoc Hobby Toy Store, and I am so glad I did. The store has a fantastic selection of board games and puzzles, which are perfect for family game night. The prices are very reasonable, and the staff is always happy to offer recommendations and advice."

Author's name

Los Angeles, CA
★★★★★

"Havoc Hobby Toy Store is a paradise for toy enthusiasts! I have been a regular customer for over a year now, and I can confidently say that they have one of the best selections of toys, models, and hobby kits in town. Highly recommended!"

Author's name

Los Angeles, CA
★★★★★

"I'm a collector of action figures and model kits, and I can honestly say that Havoc Hobby Toy Store is one of the best places to find rare and hard-to-find items. Their inventory is constantly updated with new releases and exclusive items, and their prices are very competitive."

Author's name

Los Angeles, CA